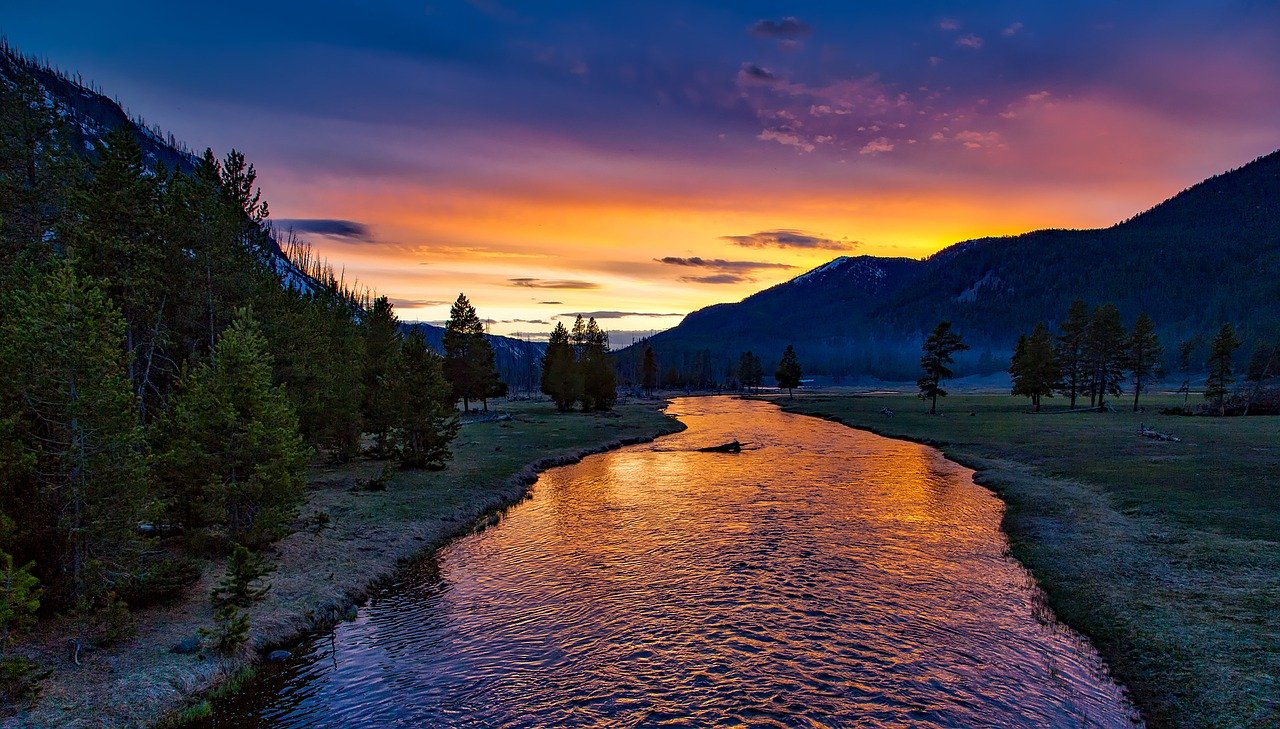 On 1 March, 1872, Yellowstone became the first natural area to be designated a national park in the United States. Since that day, millions of people have visited the park down the years to take in the awesome sights of its incredible natural bounty. As well as its fantastic diversity of plant and animal life, the park also sits on top of the one largest supervolcanoes on the planet, the energy form which creates some breath-taking hydrothermal features, such as hot springs, mud pots, fumaroles, and geysers.
There is so much to see and do on a trip to Yellowstone that it is simply a must for anyone visiting the States for the first time. However, if you want to feast your eyes on its wonders, you must make sure that you sign up for the ESTA visa waiver scheme before travelling if you are an EU citizen. (If you want to learn about whether you are eligible and how to apply, this ESTA guide is a great place to start.)
Without further ado, here are the top seven reasons that you should visit Yellowstone!
1. Geysers
It is incredible to think that Yellowstone contains up to 60 per cent of the world's geysers. Of over 500 of the things in the park, without doubt the most famous one is Old Faithful. For many years now, Old Faithful has been spewing 3,000-4,000 gallons of piping hot water 130 feet into the air once every 35-120 minutes. It is a sight to behold, reminding us of our insignificance in Mother Nature's grand plans.
2. Grand Prismatic Spring
Old Faithful may be more renowned, but no trip to Yellowstone would be complete without a photo of the Grand Prismatic Hot Spring. At 121 feet deep and 370 feet in diameter, this iridescent pool looks like the eye of the planet open wide. Its spectacular bands of colours result from thermophile bacteria that live in varying concentrations around the pool.
3. Wildlife
Yellowstone is absolutely massive. Covering an area of over 3,000 square miles, the park provides a habitat for a bewildering array of animal and plant life. Today, you can find many animals that have become extinct in many other parts of the country, including wolves, bears, bison, elk, sheep, deer, moose, antelope and many species of birds.
4. Hiking
The best way to get a real taste of Yellowstone is to hike. The park holds over 900 miles of trails that span diverse landscapes and topography. Pack some food, good walking boots and a tent, and set off for a once-in-a-lifetime adventure through terrain that changes from canyons and lakes to forests and valleys and back again.
5. Indian Tribes
Yellowstone has been an important cultural site for Native American tribes for thousands of years. A great number of tribes, including the Kiowa, Blackfeet, Shoshone, Coeur d'Alene, Bannock, Cayuse, Nez Perce, and Umatilla, used to come regularly to the region to hunt, fish, gather plants and obsidian for knives and arrowheads. Many of these peoples used the hydrothermal features for religious and medicinal purposes. Today, the park is an important archaeological site, and many ancient Indian artefacts have been unearthed over the years.
6. Yellowstone Lake
At an elevation of 7,733 feet above sea level, the spectacular Yellowstone Lake is the highest lake in North America. If this was not enough reason to visit, the beauty of the enormous freezing lake when it ices over in winter can give visitors the impression that they are looking out over an icy polar sea. When frozen, the lake is known to give off eerie singing sounds as the ice shifts as a result of changing temperatures. 
7. Artist Point
Located high up in the southern rim of the Grand Canyon of the Yellowstone is the park's most famous viewpoint, Artist Point. The viewpoint was originally named by Frank Jay Haynes in 1883 who erroneously believed that it was the spot from which artist Thomas Moran had drawn his 1973 sketches of the raging Yellowstone Falls that dominate the view. Although the sketches were later found to have been done from another location, the name has stuck to this day!
There are few places on this earth that inspire more awe than Yellowstone. If you are passing through Wyoming, Idaho or Montana, a visit to the United States' oldest and most famous national park is a must. Make sure you plan your trip so that you can spend at least a couple of days in this marvel of the natural world.